Endodontic Surgery (Apicoectomy)
---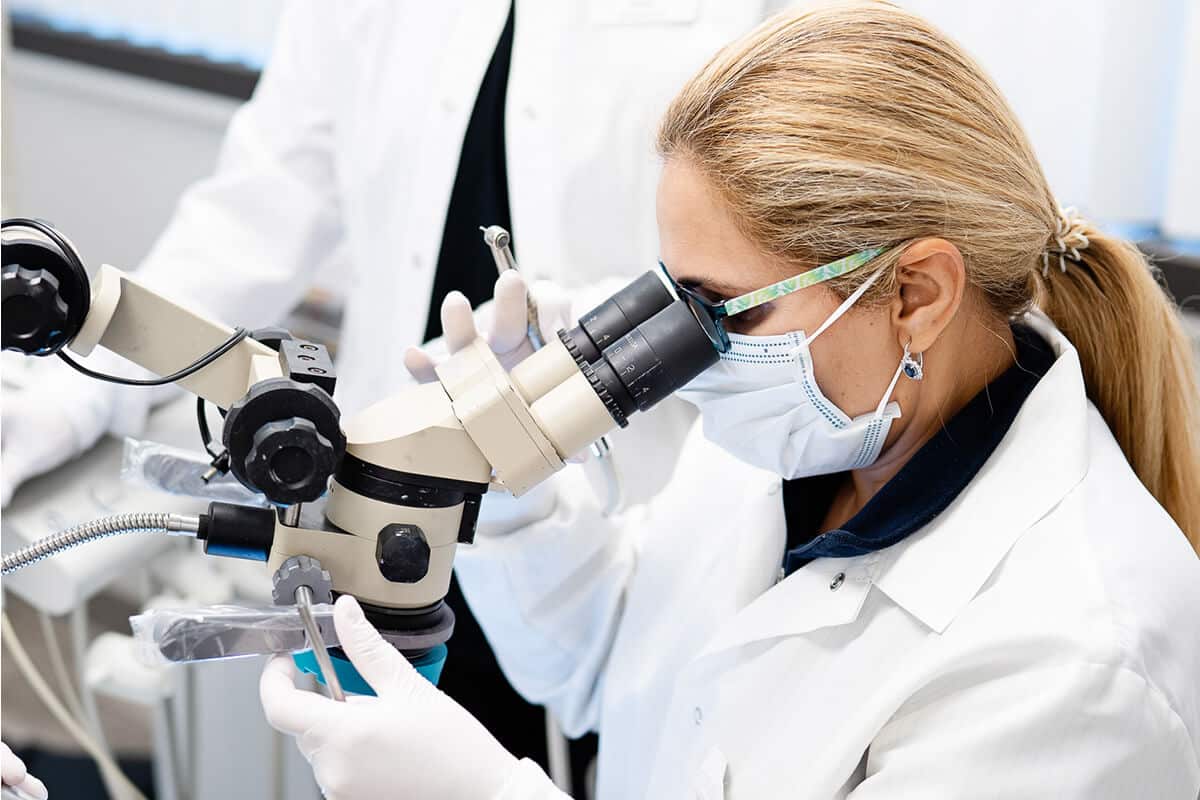 North Shore & Brookline Endodontics (NSBENDO) offers endodontic surgery at five convenient locations in the greater Boston-area. This includes apicoectomy, which goes beyond standard root canal treatment to help save a natural tooth.
We offer flexible appointment scheduling and emergency care for patients who need to be seen right away. To learn more or to schedule an appointment for a consultation, contact us at:
Beverly: 978-921-1039
Brookline: 617-735-8500
Gloucester: 978-281-2512
Newburyport: 978-462-9200
Peabody: 978-532-0500
What Is an Apicoectomy?
---
An apicoectomy is a procedure that is performed to surgically remove an infection inside the tooth and repair the roots. This is often recommended when a standard root canal procedure fails or is not an option.  
 During an apicoectomy, the endodontist: 
Creates a small opening in the gum tissue above the tooth

Removes the tip of the root (apex) and any infected tissue

Places a small filling to seal the root canal, and in some cases may place a bone graft to allow for advanced bone healing

Places a few stitches to help the tissue heal
 This specialized treatment at the tip of the tooth root can help prevent further infection and promote long-term tooth health.
Other endodontic surgical procedures we offer at North Shore & Brookline Endodontics include:
Exploratory surgical procedures to aid diagnosis

Root resection, which involves removing the damaged root of a molar and keeping the healthy portion

Repair of a damaged root (root perforations, resorptions
---
Endodontic Surgery (Summarized)
---
---
Endodontic Surgery (Explained)
---
---
Endodontic Surgery (Summarized)
---
---
Benefits of an Apicoectomy
---
A key benefit of an apicoectomy is that it can help save your natural tooth. Even though there are many options today for tooth replacement, maintaining your real tooth is the best possible option to maintain overall tooth health, functionality, and appearance.
Are You a Good Candidate for an Apicoectomy?
---
You may be a candidate for an apicoectomy if you've had a root canal procedure but are still experiencing symptoms such as:
Throbbing tooth pain

Sensitivity to heat

Sensitivity to touch while chewing
Why Choose North Shore & Brookline Endodontics?
---
At North Shore & Brookline Endodontics, we take the time to thoroughly assess the risk factors in every case. When needed, we use 3D imaging CBCT scans to evaluate and determine the best treatment option for your specific case. Along with providing high-quality care, we also strive to ensure a comfortable experience for patients from start to finish.
Frequently Asked Questions About Apicoectomy
Is an apicoectomy the same as a root canal?
An apicoectomy is a surgical procedure that removes the tip of the tooth root, whereas a root canal treats infections inside the crown of the tooth. Also, not all root canals need to be performed surgically.
Will I be awake during an apicoectomy?
Apicoectomy is considered a minor surgery, and you can expect to be awake during the procedure.
Is an apicoectomy painful?
You will be given local anesthesia, so you shouldn't feel any pain during an apicoectomy. Endodontists will recommend pain medication for afterward to help with any swelling and discomfort while the incision heals.
How long is recovery from an apicoectomy?
Most people return to work or normal activities the day after surgery. While the tooth should be feeling much better within three to five days, it may take several months to a full year for the jaw bone to grow around the tooth root where it was treated.
How do I prepare for an apicoectomy?
Your endodontist will give you instructions about what to eat, how to handle any medications you are taking, and other ways to prepare. Since an apicoectomy is considered a minor surgery, you can reference pre-operative and post-operative instructions we provide for "Surgical Treatment."
Is sedation available for apicoectomy?
Here at North Shore & Brookline Endodontics, we offer sedation to help patients feel more at ease during apicoectomy and other procedures. Sedation is not provided as a standard procedure but can be a comforting option for people who experience a high level of fear or anxiety.
How do I know if an apicoectomy was successful?
Clinical and radiographic follow-ups over a period of months will confirm the success of this procedure.
Does insurance cover apicoectomy?
Each insurance plan is different, so it's important to check with your policy. To help you navigate this process, our staff is happy to contact your dental insurance and confirm your benefits. Also, we offer monthly financing through Care Credit to help you manage your payments, if needed.
Want to Learn More About Endodontic Surgery and Apicoectomy in the Greater Boston-Area?
If you have concerns about a tooth infection or want to learn more about apicoectomy and other endodontic treatment options, contact us today to schedule a consultation.